V fund is led by a team of 5 partners with decades of investment experiences across multiple industries, forming an extensive local network and achieving deep capital market experience. It focuses on investing in current and future core technologies.
Industry veterans: Five Ex-Goldman Sachs Bankers co-founded this company with 80 years of collective experience.

Rich exit experience: helped 120+ companies achieve liquidity in past experiences.

Awards: Given our excellent return performance, including promising companies already listed and would-be listed,V Fund was just recently awarded by STAR Board as "2020 Top 20 Best Technology Investment Firm", "2019 Top Best Exited Case", "Best Investment Case of Clean-Energy Technology Sector", "Best Investment Case of AI Sector", "2018 Top10 The Most Promising Private Equity Investment Firm","2017 Top 10 Fastest-Growing Private Equity Investment Firm" among others.
The details as follow:
1. What is your investment strategy?
We have been focusing on investing in current and future core technologies ever since we started our company because we believe in the potential and stability of this area. We invest in the full value chain of core tech. At the most fundamental level, we invest in 5G, semi-conductors, and AI. At the application level, we invest inindustry internet and new automobile. In the past decade, TMT, O2O, shared economy, and AI were under the spotlight in China's capital market, yet core technologies investment has not been given much attention. Starting from this year, we have noticed that people are paying more and more attention to this area. In addition, various policies that are beneficial for companies and investors have been enacted.
For example, the large budget allocated for digital infrastructure and exchange board reform has led to favourable exit prospects for core tech companies. The trade war has also accelerated growth, as more domestic tech companies have been offered the opportunity to join the supply chain, which they would not have been able to do before. These companies will see big revenue increases in the coming years. The urgent demand for core technology and industry upgrading has created good investment opportunities and we are looking forward to capitalizing on that. Many leading companies in the core-tech sector are at a valuation of '50m-(00m since the new surge in domestic demand hasn't been reflected in their revenue and valuation. Despite their smaller size, many of them are ready to go IPO in one or two years. Those are the reason why we believe now is the great timing to invest in those companies.
2. Has COVID-19 affected your investment strategy?
Overall, COVID-19 does not impact our investment strategy as much, since it is a short-term event when compared to our fund's life span which usually lasts for 8 years. Although COVID-19 has had a large impact on Q1 financials, but the impact has gradually reduced since Q2, with recent growth surpassing our previous expectations. I would say that the companies we have invested in have resumed their normal working and production capacities, making up for what they missed in the first half of the year. On the one hand, sectors such as the semiconductor sector have not been impacted as much. On the other hand, AI, Cloud service and industry internet have benefited from the pandemic, as their businesses have been boosted.
3. What is the current fundraising situation like?
Now is both the best timeand the worst time. We believe this year has been the best timing for investment while it is the worst timing for fundraising. It has been quite challenging for fundraising overall, particularly for USD fundraising, because cross border travel restrictions have made it harder for investors to do onsite due diligence. We are currently doing our RMB fundraising which will be closed soon. It has been postpone for one month due to travel restrictions. Compared to the USD, it is easier to do RMB fund-raising and we have noticed that RMB funds are able to access more investment opportunities in this technology surgesince more tech companies are choosing to be listed in China's domestic board which provides fewer uncertainties and higher valuations. The new IPO registration system adopted by the STAR board and by the Main Board has lowered the threshold of IPO criteria. As a result, many of the VC-stage or mid-stage companies have suddenly accelerated in the pre-IPO stage and are ready to be listed soon.
4. How do you look for new opportunities and what are your thoughts on STAR board listings?
We think that there will be great opportunities in industry upgrading and core technology. These areas have always been a priority for China and are now becoming more and more urgent.
In my opinion, the STAR Board has been running quite successfully over the past few years, benefiting companies and investors. Private equity funds, like V Fund, are able to exit faster and distribute cash to investors at a faster pace, which encourages investors to invest in our new fund. It also greatly encourages core-tech start-upcompanies, as they now have more exit options and are not limited to the HK exchange board or Nasdaq.
The current high valuationin STAR Board is due to the overflow of liquidity, and I believe that it willre-adjust downward in the future. Since there will be an increase in newly listed companies in the future, the liquidity situation will be normalized once the economy resumes to its normal level.
5. What companies have you been looking to invest in?
We have invested a few semi-conductor companies, including GPU, EDA, memory chips, 5G equipment and soon. We led the recent round of investment in Geek+, a Chinese unicorn company that uses AI and robotics to build smart logistics solutions. We have also invested in Cloopen Cloud, a company that provides cloud service for enterprise communication. We are always on the look out for new opportunities that we see great potential in.
The video:
https://www.bloomberg.com/news/videos/2020-08-05/2020-the-worst-for-fund-raising-says-v-fund-s-xiong-video
The previous news: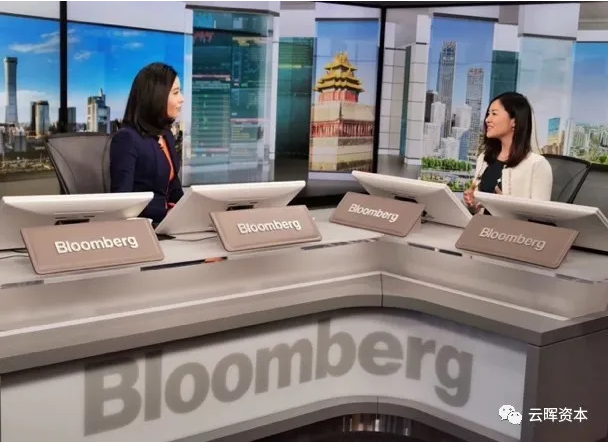 On 2019-8-27, Ashley Xiong,V Fund's co-founder, expressed her thoughts on the capital market in an interview with Bloomberg.
In her opinion, in theprevious era of globalization, investment opportunities were usually present insupply chains that had comparative advantages and investing in leading companies in those global supply chains was a popular strategy. However, under the current decoupling environment, Ashley believes that investment opportunities are shifting from global leading companies to promising domestic companies in China, as China is trying to rely on domestic companies to achieve core technology replacement and complete the building of domestic supply chains.
Because V Fund has always focused on investing in Chinese high-tech companies that complete value chains in core technology, our investment strategies have not been affected by the global environment. On the contrary, V Fund's performance has gained in strength inlight of the ever-changing and intensifying global environment.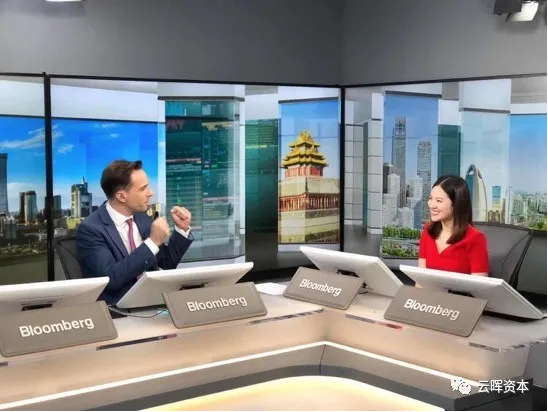 V Fund's co-founder Ashley Xiong conveyed her views in an interview with Bloomberg that was held on 2019-4-22.
In her interview, she expressed that the opening of the STAR Board provides opportunities for both private equity funds and high-tech companies. Because of the high valuations in the secondary markets, the valuations in the primary market were boosted, causing valuations in the primary market to be higher than valuations in the secondary market. For PE funds, this was an unhealthy phenomenon, but the deleveraging environment in 2018 reduced the effects of this phenomenon.